Hi. I'm Erin, and I live in a 1917 Mission style brownstone condo in Minneapolis. I've had the place for 6 years, and decided it was time to update/restore the kitchen and bath as cool-ly and cost-effectively as possible. So got some quotes, hired a contractor (friend's husband who has been contracting for 15 years, and has several friends' renovations under his belt www.openairconcepts.com), which took months, and now my place is ripped apart.
First off, let me explain why I would put myself through all this -- 6 weeks of no water, running around picking up tile, making sure my cat is safe, living with my bathroom, kitchen, and dining room in my living room -- I figure I'll be living there for awhile, and think it's an investment that will aid in the eventual re-sale of the place.
PLUS I HATED my kitchen and bath. Let's go through all of the annoying quirks my place had . . .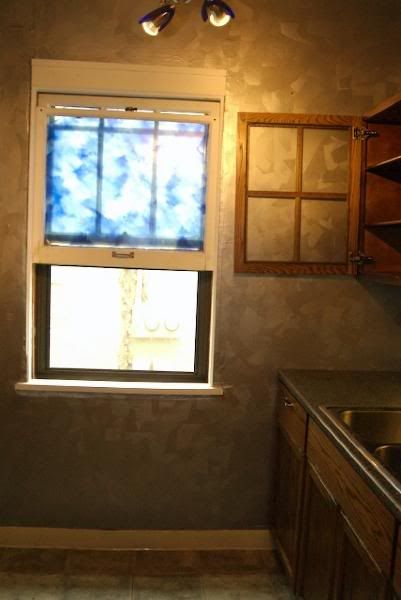 Here's the kitchen. Notice the plastic floor boards, the missing window frame, the cabinet door that would not close without falling off, the beautiful blue countertop and vinyl floor.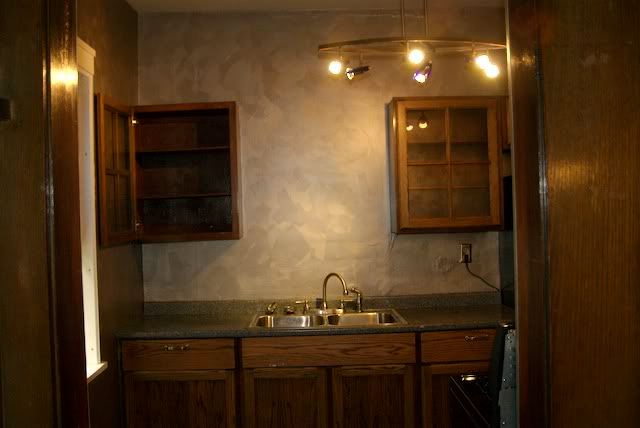 Lovely cabinets. And there were only 2 . . .
The silver paint was my idea, the only thing I could do for the poor place.
On to my lovely bathroom . . .
In this picture, it doesn't really look that bad.
First off, the plastic floorboards. Annoying. The floor tile has tiny grooves that collect people scum and will not ever become clean. I put the mirror, lights and backsplash there. The backsplash is covering a huge hole where the oldest medicing cabinet ever to have existed once lived . . .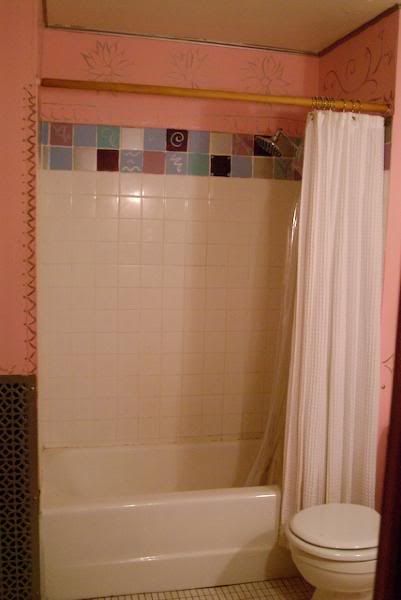 The tub is a 28", 4 1/2 ft mini tub that gets your ass wet and that's about it. I'm a girl, I like baths. The grout was wrought with mildew, and those gross centipedes had a colony somewhere near the drain.
The one redeeming quality is this built-in. The tile next to it used to be green with gold flecks. In all the sq footage is about 1.3 centimeters.
And last but not least, the buffet in the dining room. . .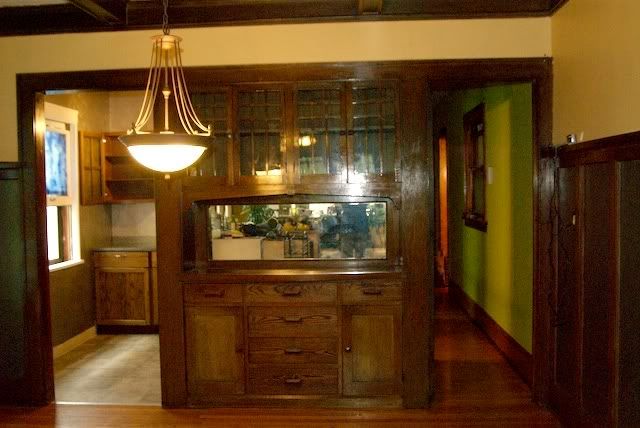 Which looks fine at first glance, but ended up being a glorified junk drawer with 8 phone books, 30 headphone sets, 760 nails, 3 hammers, 500 wine glasses, 10 rolls of tape, etc . . .
If I lived in1917, I'm sure I would have china, and a maid to cook my food, so the kitchen and buffet were probably great. But now, in 2007, who needs china? And when all my friends come over, we crowd into the kitchen. So, as sad as I am to see it go, I said good bye to the buffet today. I traded it at City Salvage (www.citysalvage.com) for an awesome blue sink and clawfoot tub.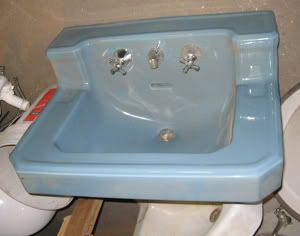 Now, there will be a center island with stools, and a butcher block top, so I can cook and converse, and my friends can help me chop things.
In the mean time, I've had to pick out colors for the cabinets (smooth painted tops, robin's egg blue) and back splash (glass tiles in 4 colors), the bathroom wall tile (white subway tile with sky blue and black checkerboard boarder, black bullnose), and the floor tile (white 2" octagons with black accents, gray grout).
I didn't know where to start. I kind of knew I wanted painted cabinets, and that I liked a certain vintage blue/turquoise. I went to an antique shop, and bought a vase that was the color I liked, then found a retro fabric store (Crafty Planet in NE -- www.craftyplanet.com) and picked out a bunch of patterns I liked. THEN I took them to the tile place and went from there.
Pictures in the next post . . .